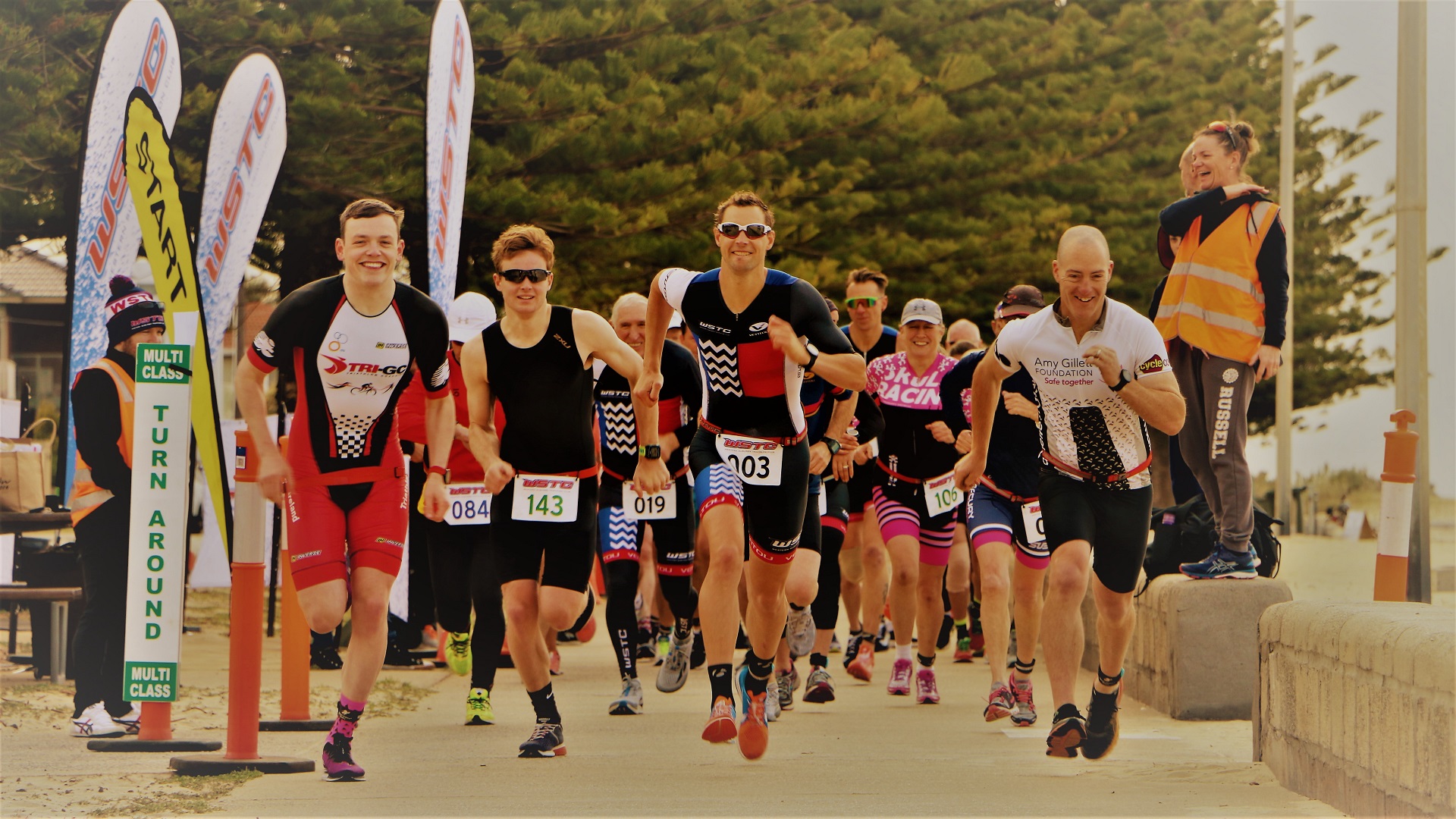 WSTC Membership Update 2020/2021
We hope you and your family are safe and well during these unusual times.
No doubt you have been inundated with Covid correspondence. Our plan is not to reiterate all that but rather update you on what's happening in regard to club activities, membership renewals and how we plan to support members for season 20/21.
We had a wonderful start to the triathlon season with a sell out Christmas race, a magnificent CFA fundraiser, where we donated just over $11,000, followed by our biggest event ever, with hundreds of girls participating in our 2nd Girls Only Secondary School Event, an outstanding season for the club, despite an early ending.
We decided to cease racing and training early, even though we could've proceeded with race 5 based on restrictions at the time. Our principle concern then, as it is now, is the health and well-being of our volunteers/members, the broader triathlon community as well as Hobsons Bay residents. This will remain our 1st priority as we proceed through Covid-19 and the upcoming season.
Training
Whilst restrictions have eased, return to play guidelines require processes and practices to be put in place for safe return to group training. Shared facilities in particular provide a number of challenges for training. In light of this, club training will remain suspended until such time as it's deemed practicable to return. We still have a number of mag trainers available for members to use during this time. Please contact us if you would like to borrow one.
Events
Dates have been set for the duathlon series, 23rd Aug, 13th Sep and 4th Oct along with the necessary applications to relevant authorities. Triathlon Australia (TA) have just released a comprehensive guide outlining the requirements for safe return to racing. A number of these need to be adhered to as part of event sanctioning. At the present time it's not feasible for us to implement the necessary changes, in particular, we're constrained by available space. The TA guidelines however will be progressively reviewed as circumstances change. We'll also be working closely with the council to ensure any specific local requirements can also be met. Whilst the current circumstances provide some challenges, our proposed 1st event is still over two months away, a lot can change during that time and we're hopeful of returning to Covid safe racing before the end of the year.
Membership
In light of the uncertainty around racing prospects and acknowledging that we had an early finish to the triathlon season, we've decided to reduce membership fees for next season for all current members (as at 31st March 2020). Membership fees will be reduced to $10 plus active fee, down from $63 for an adult. This discount offer will remain available to current members until 31st July. We hope this offer goes some way to rewarding our members whilst also supporting members who may be suffering financial hardship at this time.
Unfortunately, Triathlon Australia (TA) have not seen fit to reward or compensate members, offering a mere 5% discount for all renewals by July 31st. This is extremely disappointing, as we'd hoped TA would have finalised the long overdue review of membership offerings available to club members. We recognise that our discount membership offering still requires members to have a TA membership. Current TA Adult membership remains at $147 plus the active fee. By default, TA adult memberships are set to automatically renew, unless you have manually switched this off. If you don't want to automatically renew at this time of uncertainty or you wish to change to a non competing/non training, volunteer TA membership ($5 plus active fee) then you must login to the active member portal memberportal.active.com and switch off the auto renewal function by June 30. Auto renewals are processed on the 1st July. Please note TA memberships are generally non-refundable.
Details of the non-competing/non training TA membership package can be found here. This is an alternative option for members wishing to renew their club membership for season 20/21.
http://www.triathlon.org.au/Membership/Membership_Options/Non_Competing___Non_Training.htm
If your TA membership requirements remain unchanged and you're set to automatically renew please ensure your credit card payment and contact details are up to date. Login via memberportal.active.com to update any information.
Annual memberships, that are not set for automatic renewal, can be amended and manually renewed from the 17th June onwards via memberportal.active.com
We urge all club members to visit the Triathlon Australia website http://www.triathlon.org.au/Home.htm for specific details around membership, in particular insurance coverage provided.
We have included some links below for ease of access -
TA membership package options can be found here – http://www.triathlon.org.au/Membership/Membership_Options.htm
Annual membership details can be found here - http://www.triathlon.org.au/Membership/Annual_Membership.htm
http://www.triathlon.org.au/Membership/Benefits_of_Annual_Membership.htm
Additional information in regard to TA insurance coverage for TA members, non competing/non training members and one day licence holders can be found via the insurer's website here - https://vinsurancegroup.com/triathlon/
https://vinsurancegroup.com/triathlon/wp-content/uploads/sites/24/2020/02/2019-2020_TriathlonAust_SummaryofCoverv2_compressed.pdf
TA membership frequently asked questions (FAQ) – http://www.triathlon.org.au/Membership/Membership_FAQs.htm
Entry fees
Assuming we return to Covid safe racing, member entry fees will remain the same for season 20/21. However, any club member who has a non competing/non training TA membership, who decides they want to race, will need to purchase a TA one day licence (ODL) as part of their entry. These range between approx. $3-$10 per race. Please note the ODL does not provide the same level of insurance cover as Adult/Junior TA membership, please see TA website for specific details as previously advised. Members can also contact TA directly to change their membership type throughout the season. To change your TA membership package or if you have any questions about TA membership packages, please email Triathlon Australia at info@triathlon.org.au or call on (02) 8488 6200.
We're all looking forward to returning to the club environment as soon as possible. This will rely on our community continuing to follow all Victorian State Government guidelines around activities and physical distancing. We encourage all members to stay the course and keep themselves and our communities as safe as possible.
If you have any questions or concerns around club activities or membership, please don't hesitate to contact us.
We can't wait to see everyone back out enjoying club events again.
Stay safe.